Updated 7-13-18.
Cream is a Siamese mix last seen on Holiday drive off of Berea Church Rd in the Blue Ridge Estates community, She black spot on her nose, and a large bulge on her stomach.
Joy 329-3015 (7/17)
Found cat on Orr's Camp Rd, Small (9 pound) Black cat with a couple white spots. Female. Has been fixed. From looks of teeth appears to be an adult.
Kelly Hicks 243-3118 (7/13)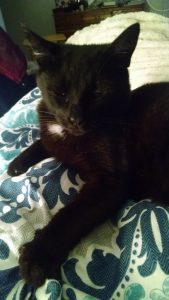 Lost dog in Rosmond. White pitbull mix with brown and black spots, about 40lbs no collar but is microchipped. Very friendly and goes by Avett.
814-227-8876 (7/12)
Maya is a medium size light brown short haired dog. Wearing a grey reflective collar with a blue tag. She is friendly but shy. Sky is a 2 year old black mini dachshund with brown paws no collar and friendly. They were last seen off Ridge Road in Edneyville.
Nacy 329-0935 (7/9)
Ollie is a male tri-colored hound/boxer mix and was lost near Old Lytle Cove Road in Swannanoa.  He is very friendly but skittish and is unfamiliar with the are where he was lost.  He is wearing a collar and is micro-chipped
Karla 828-768-1486  (7/7)
First dog – a young mixed breed yellow Lab was found in Flat Rock.  She is a little bit shy, but allowed the people who found her to lead her into their house.  She is not wearing a collar and it is not known if she is micro-chipped.
Second dog – a male mixed breed beagle puppy was found with the young mixed breed yellow Lab in Flat Rock. He is very friendly.  He is not wearing a collar and it is not known if he is micro-chipped.
Cynthia 828-692-5377 – Two dogs found (7/7)
Male grey/white pitbull. Found on Crest Rd., near W. Blue Ridge Rd., in Flat Rock.
Brit (7/2)
A found dog, older chihuahua mix with blonde fur and dark brown markings on his back not wearing a collar and not microchipped was found on Airport Road near Blue Ridge Community College and the Eagle Crest Community.
Jennifer 551-1116 (7/2)
A Female German Sheppard mix 9-12 months old with dark brown and black fur, wearing a Navy Blue and white collar was found on Crab Creek road, near Holmes State Forest.
Mary 442-9427 (7/2)
A 4-month old black lab mix jumped out of the car in Saluda.  She is about 30 lbs, has a white chest and one white paw.  She is wearing a red collar.  If found please call Ingrid Sandhall at 828-817-2663.
Lost male Golden retriever, wearing a blue collar and is microchipped. Last seem on overturn hill drive off of Jeter Mountain Road.
Stanley Ramsey 702-5999 (6/29)
Lost male dog named Whitey. He is a 15 month old Akita. Big fluffy with all white fur. He is wearing a collar with name. Last seen in the Rugby Rd Shephard Cemetary area.
Robert Bowman 545-5173 (6/20)
If you have any pets you would like to report please submit the form below –