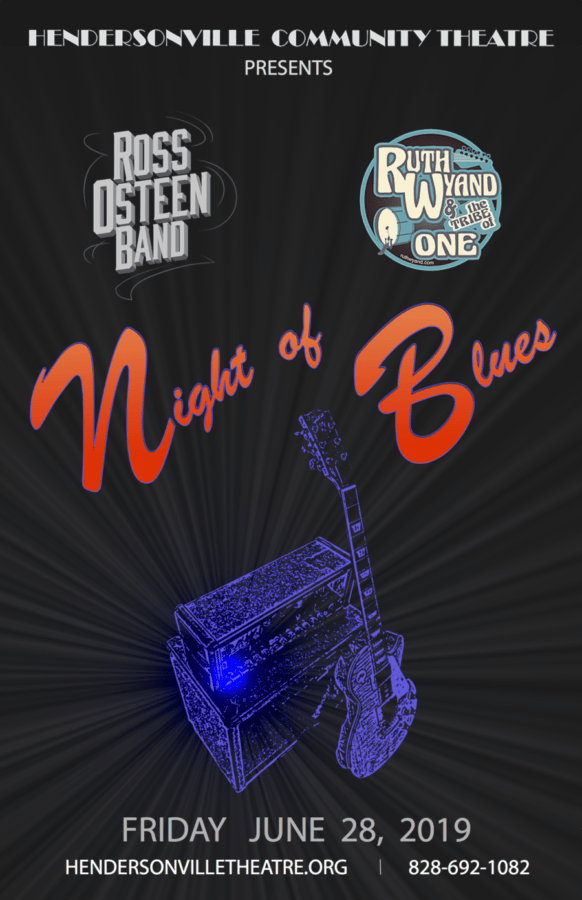 Join Hendersonville Community Theatre for A Night of Blues on  June 28th at 7:30pm.  Featuring the Ross Osteen Band and Ruth Wyand & The Tribe of One. This is one night you won't want to miss!
The Ross Osteen Band with a  voice that summons the guttural howls of John Fogerty, and guitar work that ranges from the front porch to outer space, Ross Osteen joins the powerful blues/rock scene of the deep south. The songwriter was born in western North Carolina placed in the midst of an eclectic music scene ranging from bluegrass to rock, and beyond. Eventually all of his influences aligned to form his bluesy sound, and he hit the road. Ross has played blues shows with notables such as Jimmy Thackery, and Kim Wilson of the Fabulous Thunderbirds. He also shared the stage with legend Buddy Guy.
There's no doubt his style of musical soul searching will allure listeners Ruth Wyand & The Tribe of One is a one-woman band from Kill Devil Hills, NC. That generate the power a full band, with her powerful yet intricate picking style, alternating thumb bass, bottleneck slide, multiple foot drums and raw blues vocals Ruth presents a full high-energy and engaging show playing an eclectic mixture of styles of blues & Americana originals. From juke joints to jazz clubs this award-winning blues fingerpicker, slide player and singer/songwriter draws on her deep love of American roots music to demonstrate her strengths as a guitarist, singer and songwriter.