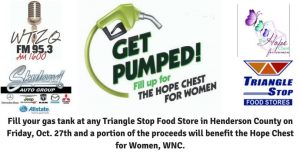 GET PUMPED!  WTZQ radio and volunteers and business sponsors from the community are taking over the Triangle Stop Food Stores/Marathon Gas stations all across Henderson County this Friday, October 27th to raise money and awareness for The Hope Chest for Women, WNC!  A portion of the gas profits for the entire day from every Triangle Stop location will be donated to The Hope Chest.  The Hope Chest for Women, Inc. was founded in 2003 to relieve some of the burdens created by breast or gynecological cancer treatment costs. Main sponsors for GET PUMPED! this year are Triangle Stop Food Stores and Skyland Automotive Group.  Supporting sponsors are: Brotherstone Granite, Piano Emporium, St Lukes Hospital, Summey Plumbing, Cocula Mexican Restaurant, Lifecare Center of Hendersonville.  Participating locations:
Store # 200  701 N. Main Street, Hendersonville
Store #209   2545 Chimney Rock Hwy., Hendersonville
Store #202   1484 Ozone Road , Saluda
Store # 214  4197 Haywood Road, Horse Shoe
Store #205   3614 Hendersonville Hwy., Pisgah Forest
Store #215   754 Upward Road, Flat Rock
Store #216   2400 Asheville Hwy., Hendersonville
Store #220  95 Terminal Drive, Fletcher
Special thanks to main sponsor Skyland Automotiveand location sponsors: Summey Plumbing and Heating, St. Luke's Hospital, Columbus, NC, Life Care Center of Hendersonville, Brotherstone Granite LLC,Piano Emporium, and Cocula Mexican Restaurant.