WTZQ AND SUNDAY MORNING HYMN TIME PRESENT
THE CHURCH BULLETIN BOARD
Local and out of town announcements for special services and gospel concerts are listed – along with local church and club announcements for regular weekly or monthly events.
If you have something you would like listed on WTZQ's Church Bulletin Board send it via email to wtzqchurchbulletins@gmail.com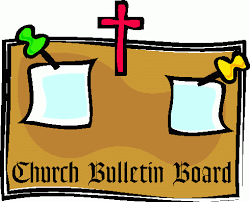 WTZQ AM 1600
Can be heard in
Asheville – Canton – Brevard – Tryon – Columbus – Shelby – Marion
and  Upstate South Carolina
95.3 "Q" FM
Broadcasts all throughout Henderson County
WTZQ.COM
Listen on-line anywhere – anytime
Special Notice:  If your church has special services or singings coming up that you would like to promote on the Sunday Morning Hymn Time Page of WTZQ.COM and to have announced on the Sunday Morning Hymn Time Radio Program –please send an e-mail to:  wtzqchurchbulletins@gmail.com
Blue Grass Bash
Hendersonville Presbyterian Church located at North Grove Street will host a Blue Grass Bash, every 3rd Sunday of the month from 7 pm to 8 pm.  Free admission for the event  as well as free ice cream, cookies and coffee. A love offering will be taken for the bands
Here is the 2023 Blue Grass Bash Musical Lineup
Oct 15             Liberty Road Band
Nov 19           Muley Holler Gang
Dec 17           The King James Boys
Henderson County Walk to End Alzheimer's
The Alzheimer's Association is inviting Henderson and surrounding area residents to join the fight to end Alzheimer's by participating in the Henderson County Walk to End Alzheimer's on Saturday, SEPT. 30 in downtown Hendersonville.  We will be located in front of the Historic Courthouse on Main Street. Check-in opens at 9AM, with the opening ceremony at 10AM and the Walk begins at 10:30AM. Every dollar raised helps provide 24/7 care and support while also funding critical research for Alzheimer's disease. You can get more information and register at alz.org/WALK.
# # #
Immaculata Catholic School Oktober Family Fest 2023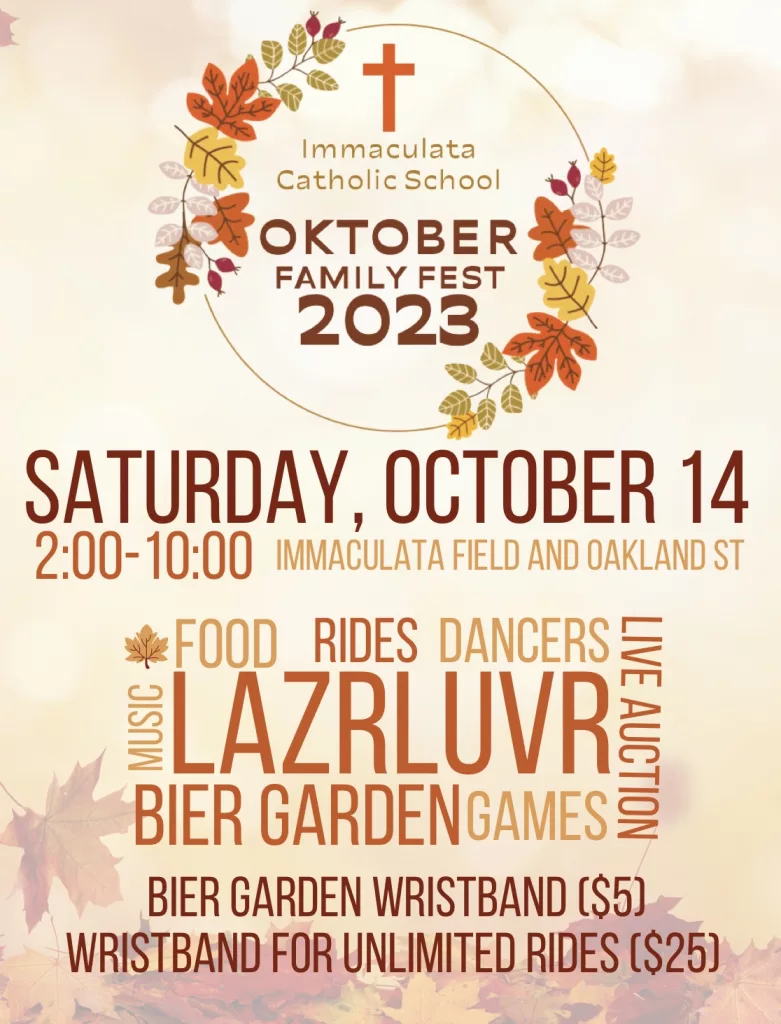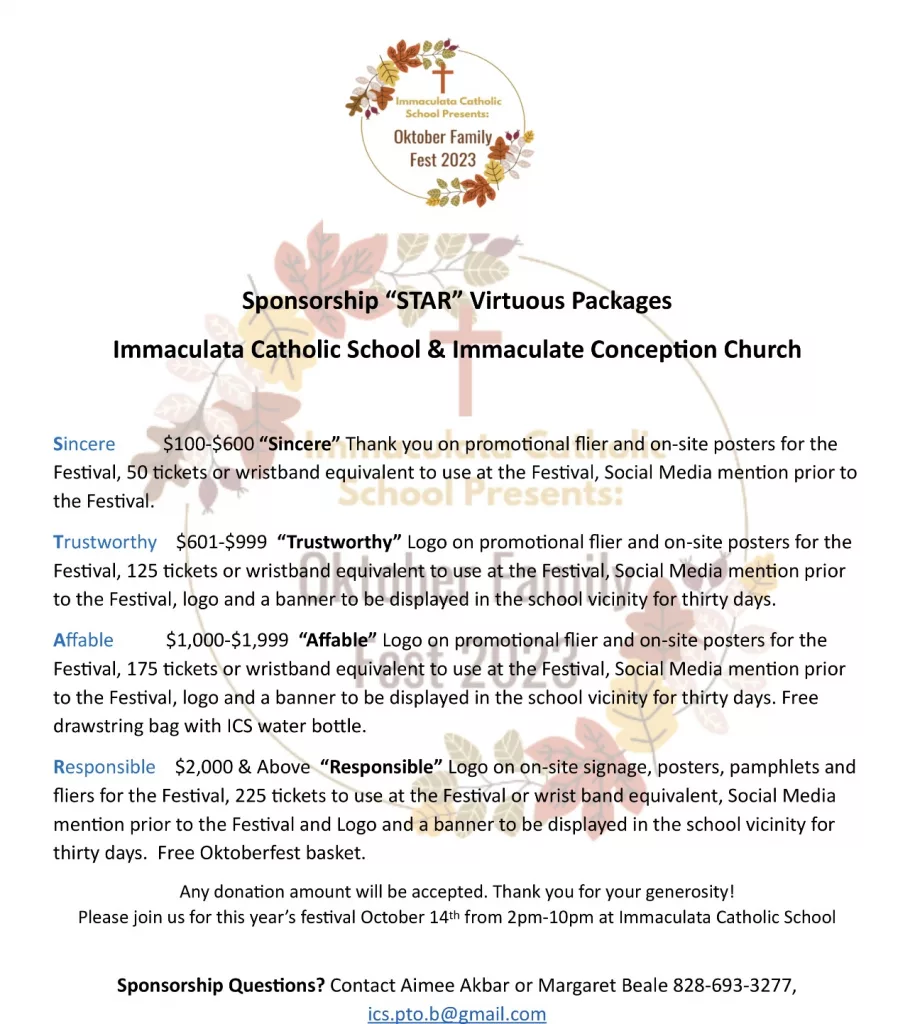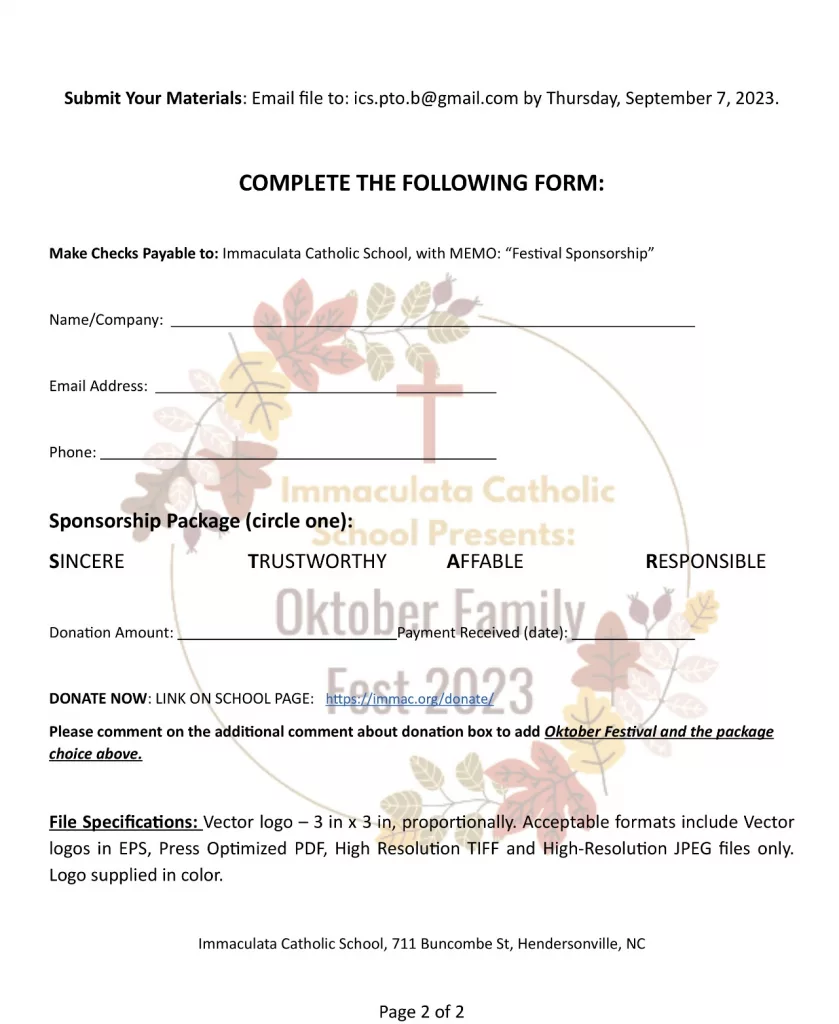 # # #
Friends of Music Presents
The Bs Jazz Trio: Standard Classics of American Popular Music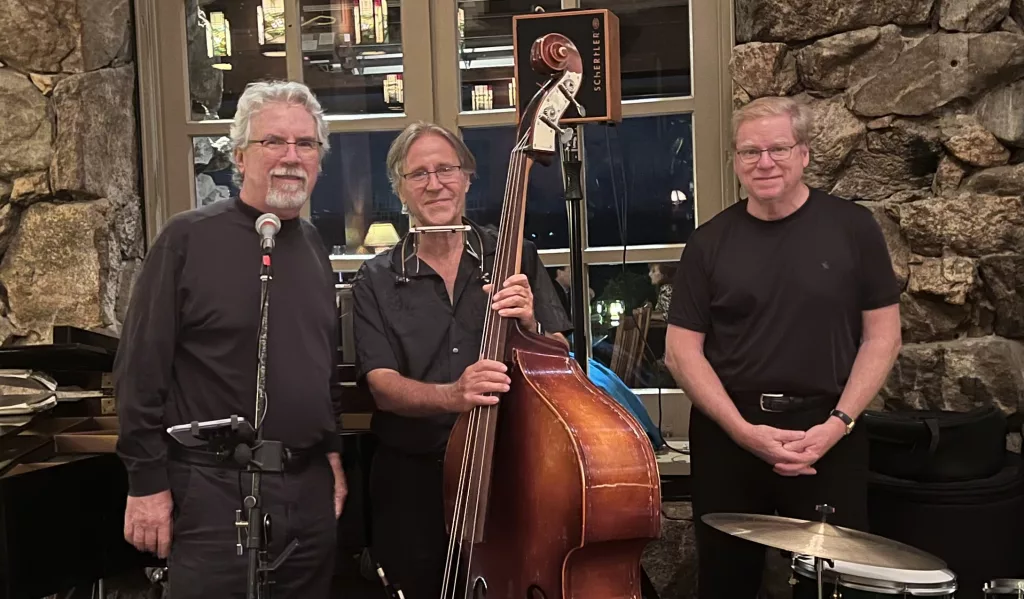 On Sunday, October 22 a toe-tapping concert will be presented by the "The Bs" (Jazz Trio), Standard Classics of American Popular Music.  At 4:00 p.m. this Friends of Music event will be held in the Parish Hall of the Episcopal Church of St. John in the Wilderness, 1905 Greenville Highway in Flat Rock.
The group is named for its participants, all of whom have names beginning with the letter B:
* BILL COVINGTON, a North Carolina native and a graduate of the New England Conservatory of Music in Boston and UNC-Chapel Hill, is a free lance musician and piano teacher who has played at the Grove Park Inn since 2000 and has been a member of the Bs for the past twelve years.
*  BRUCE LANG, a transplanted New Yorker, relishes singing and playing upright bass, guitar, and mandolin.  Bruce is also involved in theater productions and operating his family's Big Creek Recording studio.
* BRYON HEDGEPETH, a noted percussionist and timpanist, has performed at Hendersonville's First Baptist Church, Brevard Philharmonic Orchestra, Asheville Symphony, plus the Charlotte and NC Symphonies.
Individually and collectively, The Bs are outstanding musicians and ready to deliver a fun and jazzy afternoon.  Handicapped accessibility and free parking are available.
 For more information call the church office at 828-693-9783 or visit www.stjohnflatrock.org.
# # #
October Hiking Retreat in Valle Crucis
Register Now for Retreat in Wilderness and Discipleship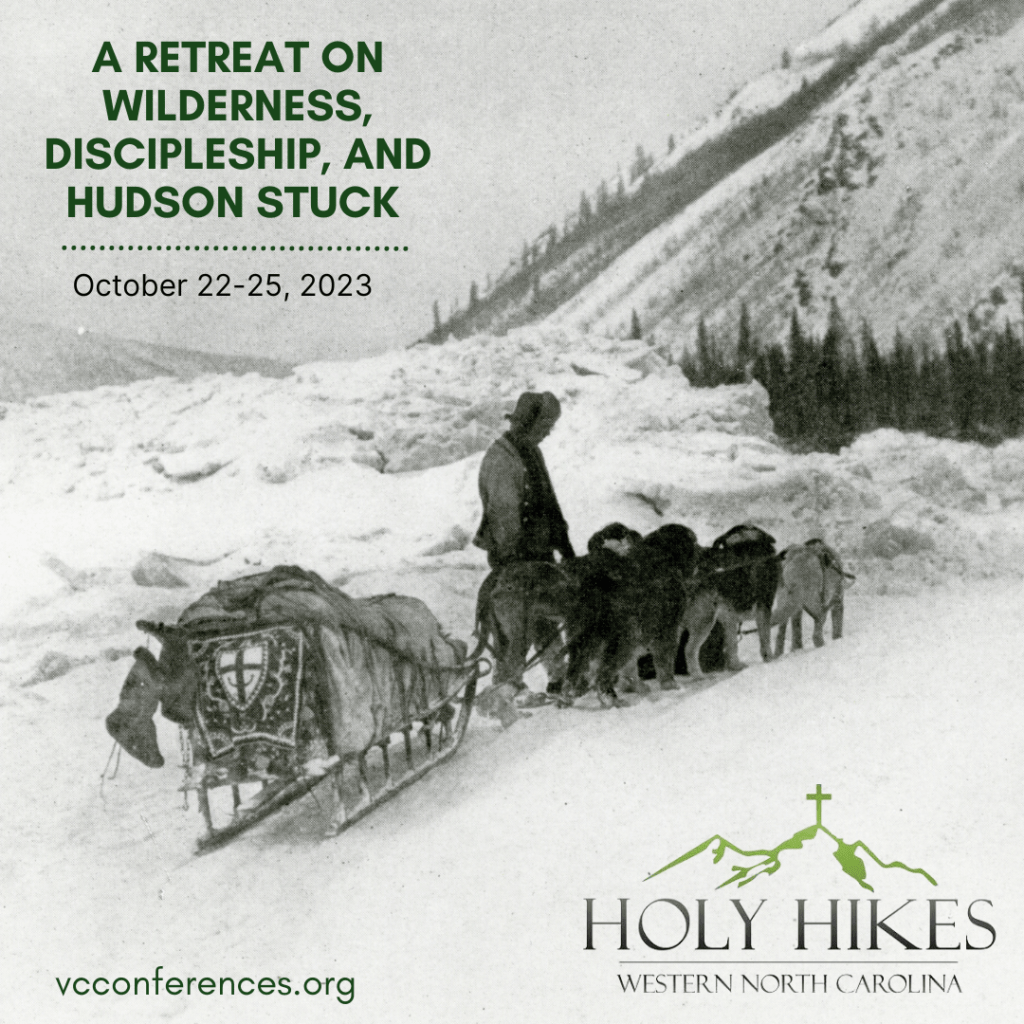 The Episcopal Church of St. John in the Wilderness is hosting an autumn hiking retreat and welcomes anyone interested in the great outdoors. Both hikers and non-hikers are welcome. It's called "A Retreat in Wilderness and Discipleship: Encounter God in Wild Places through the Story of Hudson Stuck." The retreat is located at the Valle Crucis Conference Center near Boone, NC, from Sunday, October 22 through Wednesday, October 25.
"Many of us can relate to encountering God in beautiful places," says Rev. Josh Stephens, the rector of the parish and founder of Holy Hikes of Western North Carolina. "At the same time," he says, "the wilderness can be a terrifying place that is incredibly challenging and defining. People of faith often find themselves transformed by wilderness experiences so we hope to explore further the relationship between wilderness and discipleship through our hikes and the story of Rev. Hudson Stuck."
The retreat features talks from the author, Patrick Dean, whose book A Window to Heaven: The Daring First Ascent of Denali, America's Wildest Peak recounts the story of The Rev. Hudson Stuck, an Episcopal priest who was the first person to summit North America's highest peak.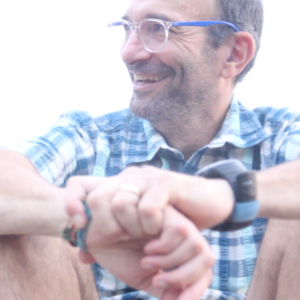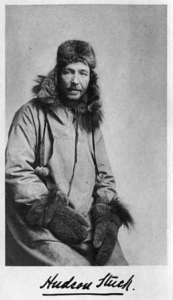 Optional group hikes for various ability levels will be offered by Holy Hikes-WNC on Monday and Tuesday between learning about Hudson Stuck, who spent much of his ministry visiting remote Alaskan villages by dogsled and advocating for Native rights in the early 1900s.
Participants may also enjoy downtime at the retreat center, a drive through the country enjoying autumn colors on beautiful mountain roads or a visit to nearby Boone.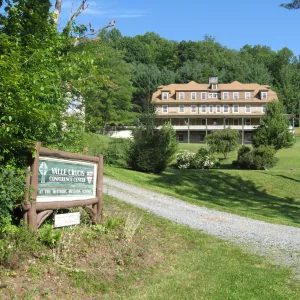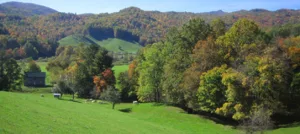 Come to the high country this fall to getaway and learn about one of the church's unknown saints. Rates are all-inclusive. To sign up visit https://vcconferences.org/programs#Hudson
For more information call the church office at 828-693-9783 or visit www.stjohnflatrock.org.
# # #
St. John in the Wilderness Episcopal
Church and Cemetery Tours Continue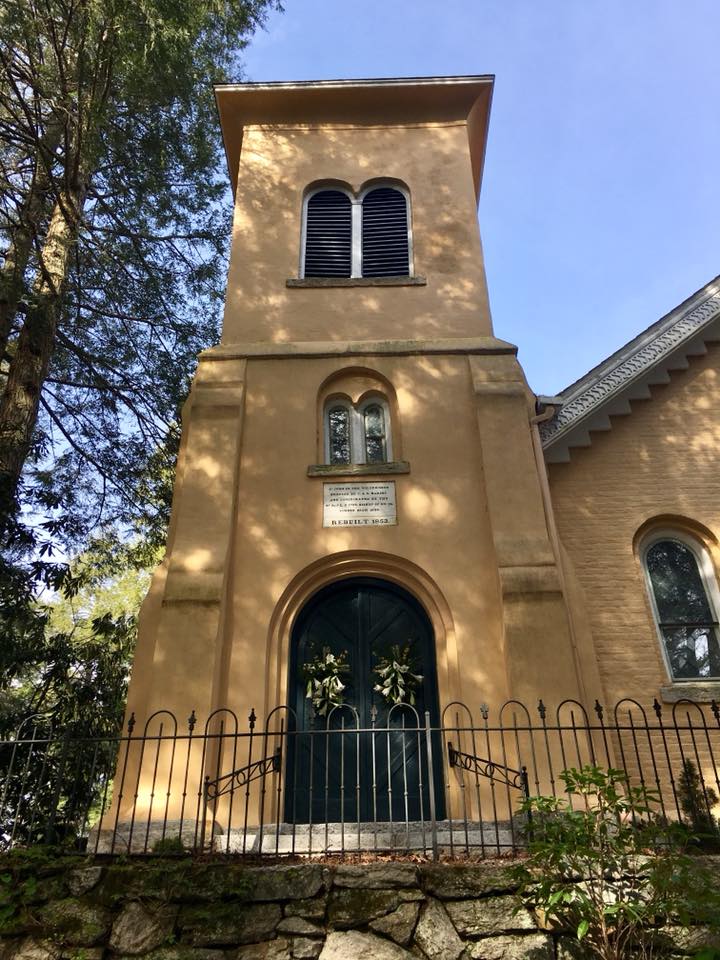 Tours of the Episcopal Church of St. John in the Wilderness in Flat Rock will continue through December.
The guided tours will be held the first and third Saturdays from July through September and the third Saturday only from October through December.
They begin promptly at 11 a.m. and last about an hour.  Participants are encouraged to wear comfortable shoes. There will be no rain dates.
The church and churchyard (cemetery) tours returned last summer and are sponsored by the St. John Episcopal Church Docents.  They will begin inside the Carriage Door entrance of the church with the first led by lead docent, E.R. Haire, Jr.  Other docents will rotate monthly as guides. "We are pleased to give tours of the historic church and cemetery. As a vibrant congregation we welcome all to come to this sacred place and share in the story of St John in the Wilderness," said Haire.
The tours are free but advance reservations must be made online through the church's website, www.stjohnflatrock.org/tours.  Space is limited for each tour.
The historically significant cemetery contains graves of un-named 19th century people who were enslaved as well as distinguished political figures, and local citizens.
# # # #
REGULAR WEEKLY OR MONTHLY EVENTS FOR LOCAL CHURCHES AND CLUBS

Grief and Loss Support Group
GriefShare, a special help seminar and support group for people experiencing grief and loss, will be held on Tuesday afternoons at Living Savior Lutheran Church from 1:00 to 3:00 PM.
GriefShare features nationally recognized experts on grief recovery topics. Seminar sessions include "Is This Normal?" "The Challenges of Grief," "Grief and Your Relationships," "Why?" and "Guilt and Anger." Meetings will be held at 301 Overlook Rd in South Asheville – off of Long Shoals Road.
For more information, call 828-650-0404 or email us at griefshare@lsavior.org.
# # #
 Providence Baptist, 1201 Oakland Street, Hendersonville is a Cooperative Baptist Fellowship church, committed to being an open and welcoming community of diverse ages and faith backgrounds. We honor our Baptist history and values while leaving space for God's Mystery to work in and through us, irrespective of denominational or religious affiliation. In all ways, we strive to love God and love our neighbors near and far.
         Regular Sunday services at Providence, are:
         9:00 am Spiritual Formation, Bible Study and Exploration for all ages
        10:30 am Sunday Worship, The first Sunday of each month we celebrate Communion.
        11:30 am Deeper Fellowship, A time for refreshments and conversation after worship.
        4:00 pm Worship Meal at Providence House, a meal served to any and all.
Food pantry open Sunday 4:30pm – 6:00pm. Call 828-697-2878 or go to
www.providencecongregation.org.
Spoken Word Church, located at 304 South Broad, Brevard, NC, Brevard.  Our Faith IS the Victory and home of Pastors Sam &Sharon Bradham, graduates of Rhema Bible Training College in Broken Arrow, Oklahoma.
Sunday Services:
      9:30-10:15a.m. School of The Word (With Joyce Seigel. Graduate of Rhema (RBTC)
10:30 a.m.  Worship& Praise
11a.m.  Message: "1 John 5:4"Visit our website:  Spokenwordchurch.org  as well as our YouTube Channel (Good for "shut-ins"). 828-884-5942
 
"OASIS" AT GRACE LUTHERAN: DINNER, LEARNING & FELLOWSHIP FOR ALL AGES BEGINNING SEPT.13, AND CONTINUING UNTIL NEXT SPRING, THE COMMUNITY IS INVITED TO BE PART OF "OASIS," GRACE LUTHERAN'S WEDNESDAY EVENING PROGRAMS FOR CHILDREN, YOUTH AND ADULTS. BEGINNING WITH DINNER FROM 4:45 TO 5:30 P.M., THE EVENING CONTINUES FROM 5:30 TO 7:30 P.M. WITH EDUCATIONAL ACTIVITIES FOR ALL AGES INCLUDING CHOIR REHEARSALS, ADULT BIBLE STUDIES LED BY A PASTOR, YOUTH GROUP ACTIVITIES, AND SUPERVISED CHILDREN'S ACTIVITIES FOR AGES 5 YEARS THROUGH 5TH GRADE. CHILD CARE FOR CHILDREN BIRTH THROUGH 5 YEARS OLD WILL ALSO BE AVAILABLE AFTER DINNER. FOR DINNER RESERVATIONS, PLEASE CALL THE CHURCH BY MONDAY AFTERNOON FOR THE UPCOMING WEDNESDAY MEAL. MEALS INCLUDE A MAIN DISH, VEGGIE CHOICES, DESSERT AND A SALAD BAR. THE COST FOR DINNER IS $5 PER PERSON, $3 FOR CHILDREN UNDER 12, AND $16 FAMILY CAP. THERE IS A WEDNESDAY EVENING CHILD MENTORING PROGRAM CALLED "STUDY BUDDIES" FOR CHILDREN AGES 5 YEARS OLD THROUGH 5TH GRADE. ADULT MEMBERS OF GRACE MENTOR CHILDREN IN THEIR SCHOOL WORK AND SPIRITUAL GROWTH. CHILDREN DO NOT HAVE TO BE MEMBERS OF THE CHURCH TO PARTICIPATE. TWO FORTY-FIVE-MINUTE SESSIONS ARE AVAILABLE FROM 4:15 TO 5 P.M. OR 5:15 TO 6 P.M. PARENTS SHOULD CALL 828-693-4890 AND REGISTER THEIR CHILDREN IN ADVANCE IF THEY WISH TO JOIN THE STUDY BUDDY PROGRAM. FOR MIDDLE SCHOOL YOUTH (6TH-8TH GRADES) THERE IS A PROGRAM EVERY WEDNESDAY EVENING AFTER OASIS DINNER UNTIL 7:30PM. PARENTS JOIN THE YOUTH AT 7:15 FOR A JOINT END TO THE MEETING CALLED "FINAL FIFTEEN". ADULTS IN THE COMMUNITY ARE INVITED TO JOIN THE ENTIRE SERIES OR ANY OF THE FOLLOWING WEEKLY PROGRAMS IN FELLOWSHIP HALL. NO REGISTRATION IS REQUIRED, AND NO FEES ARE CHARGED. PASTOR GREG WILLIAMS WILL LEAD THE FIRST SIX-WEEK SERIES TITLED, "EMBRACING THE PROPHETS IN CONTEMPORARY CULTURE." WALTER BRUEGGEMANN, ARGUABLY AMERICA'S LEADING OLD TESTAMENT SCHOLAR AND THEOLOGIAN, TAKES PARTICIPANTS THROUGH DVD-LED PRESENTATIONS ON A WILD RIDE THROUGH THE POETIC PROPHECY OF THE HEBREW SCRIPTURE, IDENTIFYING CULTURAL CONTEXTS, PUTTING A FRAMEWORK TO ISRAEL'S HISTORY, AND, MOST SIGNIFICANTLY—AND AT TIMES CHALLENGINGLY —DRAWING CONNECTIONS BETWEEN ISRAEL'S SOCIOLOGICAL, ECONOMIC AND SPIRITUAL STATUS AND THAT OF AMERICA TODAY. THIS SERIES WILL TAKE A BREAK ON OCT. 4 FOR PASTOR ALFREDO OVIEDO TO LEAD THE ADULT CLASS WITH AN INTRODUCTION TO CULTURAL AWARENESS MONTH AND ON NOV. 1, PASTOR OVIEDO WILL LEAD A CROSS GENERATIONAL CELEBRATION OF DIA DE LOS MUERTOS "DAY OF THE DEAD." GRACE LUTHERAN CHURCH IS LOCATED AT THE CORNER OF SIXTH AVENUE WEST AND BLYTHE STREET IN HENDERSONVILLE. FOR FURTHER INFORMATION, CALL 828-693-4890 OR VISIT THE CHURCH WEBSITE, GRACEHENDERSONVILLE.COM
MUSIC CLASSES, BEGINNING TUESDAY, JANUARY, 31, TERRY BAKER WILL HOST A MUSIC SCHOOL AT WEST HENDERSONVILLE BAPTIST CHURCH TO TEACH MUSIC. TUESDAY NIGHT FROM 6 PM TILL 7 PM IS A CLASS ON VOICE AND EAR TRAINING. WEDNESDAY NIGHT FROM 6:30 PM TO 7:30 PM IS A CLASS FOR KIDS TO LEARN TO READ MUSIC, BY TEACHING THEM HOW TO PLAY THE RECORDER. THURSDAY NIGHT IS A CLASS FOR ANYONE WHO WANTS TO LEARN BASIC MUSIC READING FROM 6 PM TILL 7 PM AND THEN FOLLOWING THAT CLASS FROM 7 PM TILL 8 PM THERE WILL BE A CLASS ON ADVANCE MUSIC THEORY. THESE FREE CLASSES ARE TERRY'S WAY OF GIVING BACK WHAT GOD HAS GIVEN HIM OVER THE YEARS. FOR MORE INFORMATION, CALL TERRY AT 828-329-8938
NON-DENOMINATIONAL MONTHLY HEALING PRAYER TIME AT GRACE LUTHERAN,GRACE LUTHERAN WILL AGAIN THIS YEAR OFFER HEALING PRAYER TIME BY THE GRACE PRAYER MINISTERS AND THE ORDER OF SAINT LUKE TO THE COMMUNITY THE SECOND FRIDAY OF EVERY MONTH IN THE CHURCH SANCTUARY. THOSE SEEKING PRAYER SUPPORT AND HELP SHOULD ARRIVE BETWEEN 1 AND 1:30 P.M. AND PLAN TO STAY AT LEAST 30 MINUTES. ATTENDEES ARE INVITED TO SIT QUIETLY AND SOAK IN THE PRAYERS BEING OFFERED UP FOR THEM WHETHER FOR PHYSICAL, EMOTIONAL OR SPIRITUAL HEALING. THIS IS A CHRISTIAN BASED NON-DENOMINATIONAL TIME OF PRAYER. EVERYONE IS WELCOME. GRACE LUTHERAN CHURCH IS LOCATED AT THE CORNER OF SIXTH AVENUE WEST AND BLYTHE STREET IN HENDERSONVILLE. FOR FURTHER INFORMATION, CALL 828-693-4890.
FREE CHORAL SHEET MUSIC, COMPLIMENTS OF SOR MUSIC (PRAISE AND WORSHIP, GOSPEL CHOIR, HYMN AND SPIRITUAL ARRANGEMENTS) "MUSIC THAT WILL UPLIFT YOUR SPIRITS." LEARN MORE ABOUT SOR MUSIC AT: HTTPS://YOUTU.BE/IKUO8WHBMPS. LISTEN TO DEMOS OF FREE MUSIC AT: WWW.YOUTUBE.COM/SORMUSIC1.  FOLLOW US ON FACEBOOK AT: WWW.FACEBOOK.COM/SORMUSIC1.  FOLLOW US ON REVERBNATION: HTTPS://WWW.REVERBNATION.COM/WILLIEELLEBIE
RON CRANE AND THE "CHOSEN EDITION QUARTET" ARE AVAILABLE FOR SPECIAL SINGINGS AND CHURCH SERVICES, CALL RON AT 828-606-0365 FOR INFORMATION AND BOOKINGS. RON SANG WITH THE FAIRHAVEN QUARTET, HIGHEST HONOR AND OTHER LOCAL – NATIONAL AND REGIONAL QUARTETS.
THE OLD FRIENDS QUARTET OF ASHEVILLE ANNOUNCES: IF YOUR CHURCH OR ORGANIZATION WOULD LIKE TO HAVE THIS GREAT LOCAL SOUTHERN GOSPEL GROUP – IN CONCERT – AT YOUR CHURCH FOR A SPECIAL WORSHIP SERVICE, CONCERT, OR IF YOUR CLUB OR ORGANIZATION WOULD LIKE TO HAVE THEM SING… YOU CAN CONTACT QUARTET MEMBER – ORVILE CUTSHALL AT [828] 301-2278 OR [828] 667-5758.
GERALD & VERNA EDWARDS – PREACHING & SINGING – ALL THE GOSPELAVAILABLE FOR REVIVALS – HOMECOMINGS – SINGINGS – CONCERTS. THE EDWARDS HAVE BEEN SINGING FOR OVER 40 YEARS TOGETHER. TO CONTACT – CALL 478-784-1470 OR WRITE TO THEM AT GERALD & VERNA MINISTRIES –5305 ROGERS ROAD LIZELLA, GEORGIA 31052. TO FIND OUT MORE ABOUT THEIR MINISTRY…THEIR WEB-SITE IS: www.geraldandvernaministries.com.
INVITIATION TO WORSHIP, FIRST PRESBYTERIAN CHURCH OF HENDERSONVILLE PCUSA INVITES ANYONE WHO IS LOOKING FOR A LOVING PLACE TO WORSHIP TO PLEASE JOIN US AT OUR NEW LOCATION FOR SUNDAY SCHOOL AND WORSHIP AT 610 YARBROUGH ST., HENDERSONVILLE, BEHIND THE FRESH MARKET. SUNDAY SCHOOL FOR ADULTS, CHILDREN AND TEENAGERS BEGINS AT 9 A.M. THE WORSHIP SERVICE STARTS AT 10 A.M. REFRESHMENTS AND FELLOWSHIP TIME FOLLOW THE WORSHIP SERVICE, LED BY THE REV. GRACE BOYER. THE CHURCH ALSO OFFERS A TUESDAY NIGHT BIBLE STUDY AND POTLUCK SUPPER PROGRAM FROM 6 TO 7:30 P.M. AT ROTATING LOCATIONS. FOR MORE DETAILS, PLEASE EMAIL FPC.HVL.PCUSA@GMAIL.COM.
BALFOUR UNITED METHODIST CHURCH'S BREAD MINISTRY:   FREE BREAD TO THOSE WHO COME FROM 3:00 TO 4:00 PM – EACH MONDAY AT THE CHURCH – U.S. 25 NORTH – ACROSS HUNTER CHEVROLET
PILLOWCASE MINISTRY AT MUD CREEK BAPTIST CHURCH OF HENDERSONVILLE     EVERY MONDAY MORNING, A DEDICATED GROUP OF VOLUNTEERS MEETS AT THE CHURCH TO SEW THE DONATED MATERIALS INTO BEAUTIFUL DRESSES, SHORTS, TEDDY BEARS, TOTE BAGS AND OTHER ITEMS FOR CHILDREN IN NEED AT HOME AND AROUND THE WORLD USING OLD PILLOWCASES, SLIGHTLY USED BED SHEETS AND VARIOUS SCRAPS OF CLOTH THAT FILLS THE UPSTAIRS CLOSETS AT MUD CREEK BAPTIST.   FOR MORE INFORMATION ON THIS MINISTRY CALL MUD CREEK BAPTIST     INFORMATION OR TICKETS: 1-888-238-6858 OR
www.abrahamproductions.net
TUESDAY AND THURSDAY WALKING EXERCISE CLASSES AT GRACE LUTHERAN, WELLNESS MINISTRY AT GRACE LUTHERAN CHURCH INVITES THE COMMUNITY TO PARTICIPATE THROUGHOUT 2016 IN TWICE-WEEKLY FREE EXERCISE CLASSES TO PROMOTE HEALTHY BODIES. A WALKING EXERCISE CLASS IS OFFERED ON TUESDAY AND THURSDAY MORNING AT 9 A.M. IN STULL HALL. AFTER A DEVOTION, A WALKING DVD GIVES PARTICIPANTS THE OPTION TO WALK BETWEEN ONE AND FOUR MILES. WEIGHTS AND STRETCH BANDS ARE ALSO AVAILABLE. PARTICIPANTS CAN CHOOSE EASY WALKING OR VIGOROUS WORKOUTS AND DROP-INS ARE WELCOME.  GRACE LUTHERAN CHURCH IS LOCATED AT THE CORNER OF SIXTH AVENUE WEST AND BLYTHE STREET IN HENDERSONVILLE. FOR FURTHER INFORMATION.
DANIEL: LIVES OF INTEGRITY, WORDS OF PROPHECY, EVERY TUESDAY AT, 9:00 AM AT HENDERSONVILLE PRESBYTERIAN CHURCH. LADIES BIBLE STUDY TAUGHT BY BETH MOORE. EMAIL JOANNE NAGLE AT JNAGLE50@GMAIL.COM OR CALL 910-818-0695. LOCATED AT 699 N. GROVE ST.
"WELCOME TABLE" SERVES MORE THAN A MEAL AT HOPE UNITED METHODIST CHURCH OF EAST FLAT ROCK   SERVED EACH TUESDAY EVENING FROM 5:00 TILL 6:30 PM. A WARM NUTRITIOUS MEAL IS SERVED EVERY TUESDAY NIGHT TO ANYONE WHO COMES. THE CHURCH ALSO FEATURES A CHILDREN'S CORNER WITH ADULT SUPERVISION. 3 DEDICATED NURSES PROVIDE WEEKLY BLOOD PRESSURE CHECKS AND GENERAL HEALTH ADVICE. A DEVOTIONAL SERVICE IS ALSO OFFERED. SEVERAL PEOPLE COMING TO THE WELCOME TABLE ALSO HAVE BEEN HELPED IN THEIR SEARCH FOR SHELTER, JOBS AND A CHURCH HOME. NO ONE IS TURNED AWAY! EVERYONE WELCOME. CALL 230-3533 FOR MORE INFORMATION.
MUD CREEK BAPTIST CHURCH   ANNOUNCES "MOPS – 'MOTHERS OF PRE-SCHOOLERS" – MEETS THE SECOND AND FOURTH TUESDAY OF EACH MONTH FROM 9:00 TILL 11:00 AM
COMMUNITY SERVICE CENTER – THE ADVENTIST COMMUNITY SERVICES CENTER AT 2301 ASHEVILLE HIGHWAY, OPEN FROM 9:00 AM TILL NOON EVERY TUESDAY.  THE CENTER IS SELLING CLEAN CLOTHING AT REASONABLE PRICES AND FUNDS WILL BE USED TO BUY FOOD AND PERSONAL ITEMS NEEDED BY THOSE WHO ARE OUT OF WORK AND NEED HELP.  DONATIONS OF USED CLOTHING IN GOOD CONDITION ARE ACCEPTED DURING BUSINESS HOURS ON TUESDAYS.  FOR INFO:  697-4288.
CHRISTIAN MEN'S BREAKFAST BIBLE STUDY OPEN TO COMMUNITY (ALL YEAR EVERY WEDNESDAY, THE CHRISTIAN MEN'S BREAKFAST BIBLE STUDY IS CELEBRATING ITS THIRD YEAR WITH A GROWING MEMBERSHIP AND IS OPEN FOR NEW MEMBERS. THIS ECUMENICAL GROUP MEETS EACH WEDNESDAY AT THE DIXIE DINER ON US 64 WEST IN LAUREL PARK AT 7:30 A.M. EVERY WEEK, FOUR SCRIPTURES ARE CHOSEN PER THE WEEKLY LECTIONARY USED IN MOST CHRISTIAN LITURGICAL CHURCHES. THE FOUR SCRIPTURE LESSONS INCLUDE AN OLD TESTAMENT WRITING, A PSALM, AN EPISTLE AND A GOSPEL. PARTICIPANTS SHOULD BRING THEIR BIBLE OF CHOICE AND NO HOMEWORK IS REQUIRED. DURING THE BREAKFAST MEETING EACH ASSIGNED SCRIPTURE IS READ AND DISCUSSED REGARDING THE CONTEXT AND THE MEANING FOR PEOPLE TODAY. THOSE WHO ATTEND ORDER BREAKFAST FROM THE MENU AND ARE RESPONSIBLE FOR THE COST. FOR FURTHER INFORMATION, PLEASE CALL BOB ANDERSEN, STUDY FACILITATOR, AT 828-697-0464.
FRIENDS IN CHRIST GROUP, TRINITY PRESBYTERIAN CHURCH INVITES MEN OF THE COMMUNITY TO JOIN IN MEETING AS "FRIENDS IN CHRIST" AT 10:30 AM ON WEDNESDAY MORNINGS IN THE CHURCH LOUNGE. "FRIENDS IN CHRIST" OFFERS MEN A TIIME AND PLACE TO GET TOGETHER TO TALK AND SHARE PERSONAL FEELINGS WITH OTHER MEN WITHOUT FEAR OF BEING EMBARRISED OR JUDGED. WHILE BIBLICAL SCRIPTURE IS A MAJOR SOURCE FOR CLOSER CONNECTION WITH GOD AND EACH OTHER, "FRIENDS IN CHRIST" IS NOT A BIBLE STUDY GROUP. MEN SHOW UP BECAUSE THEY ENJOY BEING THERE AMONG FRIENDS OR FEEL A NEED TO BE PRESENT WHERE ALL ARE WELCOMED. MEN ARE INVITED TO COME TO LISTEN, COME TO SHARE, OR COME JUST TO BE A FRIEND TO OTHER MEN OF THE COMMUNITY IN WARM COMFORTABLE SURROUNDINGS AT TRINITY PRESBYTERIAN CHURCH. LOCATED AT 900 BLYTHE ST, HENDERSONVILLE, 828-692-6114.
FAST PROGRAM FOR FIFTH AND SIXTH GRADERS, WEDNESDAYS AT 6:35 PM AND SUNDAYS AT 9:30 AM AT HENDERSONVILLE PRESBYTERIAN, 699 N. GROVE STREET, HENDERSONVILLE. FOR INFO: 828-692-3211.
BLUE RIDGE CHRISTIAN CHURCH  147 OREN DRIVE, MILLS RIVER EXTENDS AN INVITATION TO ATTEND "BETTER CHOICES CLUB" WHICH MEETS EVERY THIRD WEDNESDAY OF THE MONTH AT 7:00 PM TO DISCUSS FAMILY FINANCIAL TOPICS.  INFO:  687-7826.
"CELEBRATE RECOVERY" MEETS AT LIVING WATER BAPTIST CHURCH       THURSDAY'S FROM 6:30 PM TO 7:30 PM. THIS IS FOR ANYONE DEALING WITH AN ADDICTION. THE CHURCH IS ON SUGARLOAF ROAD, HENDERSONVILLE. FOR MORE INFORMATION CALL 606-9259
THE ORDER OF ST. LUKE MEETS AT ST. JAMES EPISCOPAL CHURCH , THE THIRD THURSDAY OF THE MONTH FROM 6:00 TO 8:00 PM. INFO: 890-0919
HENDERSONVILLE FIRST BAPTIST CHURCH – SERVING UP FREE MID-DAY HOT MEALS AT "LOVE'S KITCHEN" AT THE CHURCH -EVERY THURSDAY AROUND 11:30 AM, IT'S NOT ALWAYS THE FOOD THAT MEANS THE MOST TO THE FOLKS WHO TURN OUT FOR A WEEKLY MEAL AT FIRST BAPTIST.  SOMETIMES IT'S JUST THE SMALL TOUCH OF LOVE THAT COMES WITH EACH PLATE THAT MAKES A DIFFERENCE.  DIANNE MILLER, WHO FIRST ORGANIZED "LOVE'S KITCHEN" AT FIRST BAPTIST TWO YEAR AGO, DISCOVERED THE DIFFERENCE A LITTLE COULD MAKE IN PEOPLE'S LIVES NOT LONG AFTER THE PROGRAM BEGAN. "FIRST BAPTIST HAS A COMMERCIAL KITCHEN," MILLER SAID. "IT HAS BEEN MY PRAYER TO USE IT FOR THIS SORT OF A THING. WITH SUPPORT FROM CHURCH STAFF, THE ORGANIZERS MADE A CALL FOR VOLUNTEERS WHO WANTED TO HELP PROVIDE MEALS TO THOSE IN NEED." LOVE'S KITCHEN USES REAL DISHES AND SILVERWARE FOR THE WEEKLY MEAL. WHILE WALKING AMOUNG HER GUESTS DURING THE WEEKLY MEAL, MILLER NOTICED A MAN WHO SEEMED TEARFUL AS HE ATE. HE SAID, "I CAN'T BELIEVE I'M EATING OFF A REAL DISH. I HAVEN'T EATEN OFF A REAL DISH IN YEARS,' MILLER SAID.  THIS HOME COOKED "HOT" LUNCH IS SERVED EACH THURSDAY TO ALL WHO ARRIVE. ABOUT 100 GUESTS USUALLY COME EACH WEEK, BUT MILLER HAS SEEN AS MANY AS 132 COME FOR ONE MEAL. "LOVES KITCHEN" ALSO TRIES TO MEET ITS GUESTS' OTHER NEEDS THROUGH PROGRAMS OFFERED ALONG WITH THE WEEKLY LUNCH. TWO NURSES CAME ONE WEEK TO PROVIDE BLOOD PRESSURE SCREENINGS. "LOVE'S KITCHEN" RECENTLY OFFERED EYE EXAMS AND FREE EYEGLASSES ANOTHER WEEK, THANKS TO THE HELP OF FRUITLAND BAPTIST CHURCH.
NON-DENOMINATIONAL MONTHLY HEALING PRAYER TIME AT GRACE LUTHERAN,THE SECOND FRIDAY OF EVERY MONTH, GRACE LUTHERAN WILL AGAIN THIS YEAR OFFER HEALING PRAYER TIME BY THE GRACE PRAYER MINISTERS AND THE ORDER OF SAINT LUKE TO THE COMMUNITY IN THE CHURCH SANCTUARY. THOSE SEEKING PRAYER SUPPORT AND HELP SHOULD ARRIVE BETWEEN 1 AND 1:30 P.M. AND PLAN TO STAY AT LEAST 30 MINUTES. ATTENDEES ARE INVITED TO SIT QUIETLY AND SOAK IN THE PRAYERS BEING OFFERED UP FOR THEM WHETHER FOR PHYSICAL, EMOTIONAL OR SPIRITUAL HEALING. THIS IS A CHRISTIAN BASED NON-DENOMINATIONAL TIME OF PRAYER. ALL ARE WELCOME. GRACE LUTHERAN CHURCH IS LOCATED AT THE CORNER OF SIXTH AVENUE WEST AND BLYTHE STREET IN HENDERSONVILLE. FOR FURTHER INFORMATION CALL 828-693-4890.
"FREEDOM THAT LASTS" MEETS AT PROGRESS BAPTIST CHURCH ON RUGBY ROADAT 7:00 PM EACH FRIDAY NIGHT AND 10:00 AM SUNDAY, THIS IS FOR THOSE WHO ARE HURTING IN BODY, SPIRIT AND MIND. THE CHURCH IS AT 1935 N. RUGBY ROAD. FOR MORE INFORMATION CALL 419-0722
"SAVE OUR SISTERS" FEMALE CANCER SUPPORT GROUP AT MUD CREEK BAPTIST CHURCH   THE FOURTH SUNDAY OF EACH MONTH – 5:00 TO 7:00 PM – CLEAR WORD COUNSELING CENTER ON THE CAMPUS OF MUD CREEK BAPTIST CHURCH, HENDERSONVILLE.  CHILD CARE PROVIDED UPON REGISTRATION.  TO REGISTER AND RECEIVE MORE INFORMATION:  692-6383.
MEMORY CAFÉ AT HENDERSONVILLE FIRST BAPTIST CHURCH  THE 2ND SUNDAY OF EACH MONTH FROM 1:00 TILL 3:00 PM. A MEMORY CAFÉ OFFERS THOSE WITH MEMORY LOSS AND DEMENTIA A LIVELY PLACE TO CONNECT WITH OTHERS, HAVE FUN, ENJOY REFRESHMENTS AND DO ACTIVITIES AND GET ASSISTANCE INFORMATION. THE PROGRAM IS FREE BUT NOT A DROP-OFF PROGRAM. CALL 489-6150 FOR MORE INFORMATION.
CHILDREN'S CHURCH, THE THIRD SUNDAY OF EACH MONTH BEGINNING AT 9:00 AM AT ST. PHILLIP'S EPISCOPAL CHURCH, 256 E. MAIN STREET, BREVARD. CALL 828-884-3666
"BEAR CLOSET" CUMMINGS MEMORIAL UNITED METHODIST CHURCH, 3 BANNER FARM ROAD, HORSE SHOE. "BEAR CLOSET" IS THE NEW OUTREACH MINISTRY –"BABY EQUIPMENT AND RESORCE CLOSET". THIS OUTREACH MINISTRY SERVES LOW-INCOME FAMILIES AND EXPECTANT PARENTS LIVING AT OR BELOW POVERTY LEVEL, AND STRUGGLING TO PROVIDE FOR THEIR BABIES AND CHILDREN, FROM PREEMIES TO AGE 6.  PARENTS FILL OUT A NEEDS LIST AND, WITH THE EXCEPTION OF PERISHABLES. IF CLOTHING AND EQUIMENT ITEMS ARE AVAILABLE, THEY ARE LOANED FOR SIX MONTHS OR MORE. MAKE CHECKS OUT TO CUMMINGS MEMORIAL UNITED METHODIST CHURCH. THE BEAR CLOSET IS NOW OPEN AND WILL OPERATE FROM 1:00 TILL 6:00 PM – THE 1st AND 3RD THURSDAYS OF EACH MONTH. INFO: 891-9413.
"HELPING HAND" THRIFT STORE SEEKING ITEMS. THE BROOK
COMMUNITY DEVELOPMENT CORP, 5516 BOYLSTON HIGHWAY, MILLS RIVER. THIS IS A LARGE THRIFT STORE WHOSE FUNDING WILL GO TO MORE THAN 400 HOMELESS YOUTH OF HENDERSON COUNTY.  THE HELPING HAND THRIFT STORE SEEKS CLOTHING, FURNITURE, HOUSEHOLD ITEMS, JEWELRY AND OTHER GENTLY USED ITEMS FOR RE-SALE.  FOR MORE INFO:  458-3428 OR EMAIL: thebrookachristianchurch@gmail.com
MY SISTER'S CLOSET INVITES WOMEN OF THE COMMUNITY WHO NEED PROFESSIONAL CLOTHES TO WEAR TO WORK OR JOB INTERVIEWS TO VISIT THE CLOSET FROM 9:00 AM TO NOON – MONDAYS AT HENDERSONVILLE FIRST UNITED METHODIST CHURCH.  INFO:  693-4275.
THE FIRST BAPTIST CHURCH OF HENDERSONVILLE'S – 24-HOUR PRAYER LINE PHONE NUMBER.  693-PRAY.  ALL CALLS ARE CONFIDENTIAL AND THIS SPECIAL PRAYER LINE IS OPEN TO THE PUBLIC.  THIS IS A MINISTRY OF THE HENDERSONVILLE FIRST BAPTIST CHURCH.  CALL 693-PRAY
APPLE VALLEY CHURCH OF GOD – ANGEL FOOD MINISTRIES – A FOOD MINISTRY WITH A SERVANT'S HEART –– 2822 CHIMNEY ROCK ROAD.  FOR INFORMATION AND MONTHLY MENU CALL 685-7640.
CRAB CREEK BAPTIST CHURCH'S – ANGEL FOOD MINISTRIES – 72 JETER MOUNTAIN ROAD – TO HELP YOU STRETCH YOUR FOOD DOLLARS FOR THOSE OF THE COMMUNITY WHO ARE IN NEED.  FOR INFO AND MONTHLY MENUS CALL 697-1214
BIBLES SOUGHT FOR BLUE RIDGE PRISON AND JAIL MINISTRIES THROUGH ITS "BIBLE TOOLBOX PROJECT".  A BOX IS LOCATED AT THE OPEN DOOR CHRISTIAN SUPPLY IN THE BLUE RIDGE MALL.  FINANCIAL DONATIONS CAN BE SENT TO BLUE RIDGE PRISON & JAIL MINISTRY – P.O. BOX 209, MOUNTAIN HOME, N.C. 28758.