WTZQ's Pet Patrol web page is in memory of Roux… 
If you've lost a pet scroll to the bottom of this page to report it missing on WTZQ's Pet Patrol.  Text 883-786-0730 to immediately start receiving text messages to help find your lost pet!  
Updated 1-25-2022
1/25/22
Lost Dog, Black and brown dog
White patch on his neck area
Should have a green collar on with his name tag. Not michrochipped, and was last seen off of Long Branch Road in Grover, NC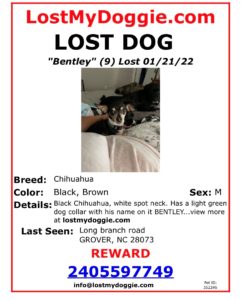 1/6/22
Found Cat, a Large Gray and White Cat with a dark saddle and a shorter than normal tail. Living outside under a trailer on Morton Lane in Hendersonville. Near Flat Rock Wood Room and Brooklyn Manor subdivision.
1/6/22
Lost Dog, Spud is a 35lb male pure breed Red Heeler missing since Dec 31 in the Edneyville vacinity near Low Gap and Bradley Mountain Rds. There was a possible sighting of Spud near Little Hungry. No collar and is not michrochipped.

Ciera 828-470-0482
12/22/21
Murphy is a gray semi long hair spayed female cat with white feet and white on chest. Very fluffy tail. Semi feral rescue from Golden Corral 5 years ago. Last seen at 151 Azalea Way, Windsor Hills, Hendersonville, on Thursday, December 18th. Please check sheds and garages or any place she could have been trapped. She is not an indoor cat and would not likely come inside and would definitely come home if she was able to. Please help bring Murphy home. Thank you. Lynne Sprinkle -828-215-6130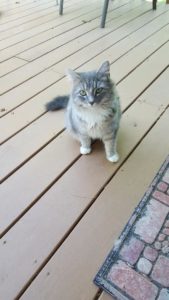 12/17/21
Karlee is a Tri-color beagle with black, brown and white with brown and white speckled feet. She is the sweetest girl and her mommy, daddy and brothers are ready for her to come back home.
Last seen on E Tracy Grove Rd, Flat Rock, NC. Wearing a collar, but is not microchipped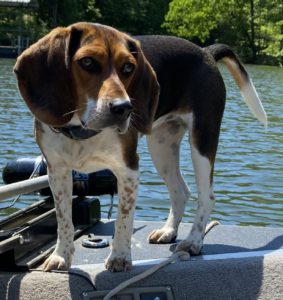 12/15/21
Flip Flop has been missing since 12/07/2021. She is an indoor cat and we are so worried about the cold weather and the fact that she has not eaten. Please help. If you live in the area if you could check your yard in any hiding places we would greatly appreciate it.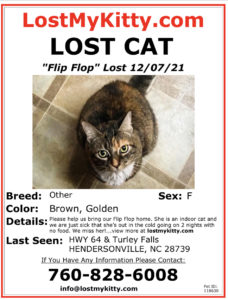 11/29/21
Hunter (doodle) was LOST on November 23, 2021 in Fletcher, NC 28732 near Advanced Auto Fletcher. 45 lb tan neutered senior male wearing red collar. He is 15, hard of hearing and has poor eye sight and an infection in one eye we are treating. Last seen at our home in Fletcher (between Ingles and CVS off hwy 25 Back of property is at Veritas off cane creek) He is timid if he can't hear well and may be scared but is extremely friendly. We are very worried about him in this cold. Please call the number listed if seen! He has never strayed from home when he's been out and has a heated dog house so we are hoping we didn't find him when searching because someone found him and most places were closed for the holiday. Please let us know immediately, no matter what hour, if someone has him. My kids are so worried about him out in the cold. We have contacted the shelter and animal enforcement, and all surrounding businesses and neighborhoods. He's an old guy but we love him so much and we just want to get him ASAP. Thanks to anyone who can help!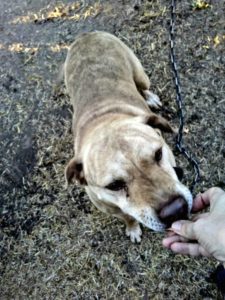 11/22/21
Lost Dog, a male silver lab, with a shiny coat, about 75 lbs and 7 years old, not wearing a collar but is microchipped, was last seen near the post office on Chimney Rock Road.
Camilo (305) 458-2282
11/22/21
Missing since 5-4-21
Violet is a PTSD Emotional support dog – Black & White, 55 lb Female Siberian Husky with Blue eyes wearing a dark purple reflective collar. Last seen on Fruitland Rd near North Henderson HS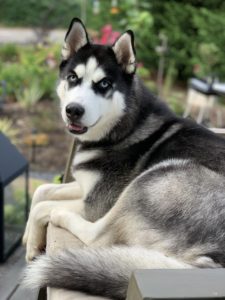 Jeanine (828)808-9670
11/19/21
Lost Cat Emma is small-medium, all black with yellow eyes and a small scar on her nose. She is shy and loves food. She is indoors and walked out our garage, we've been trying to bring her back with food, calling her, and looking all around. Last seen on Campbell Dr. no collar, but is microchipped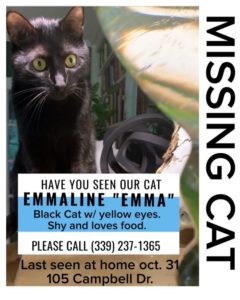 11/2/21
11/1/21
Lost cat, Mocha Latte has a White & black face and legs white.paws longhair male cat. Not Wearing a collar but is microchipped. Last seen on Allen Retreat Road hendersonville.

Judy 1-828-513-7592
11/1/21
Lost Dog, Major is  a Red pit mix white goatee, white chest,white toes, one white sock on his left foot , black nose , one black toe pad on the bottom of each foot, Last seen at the soccer field in Edneyville.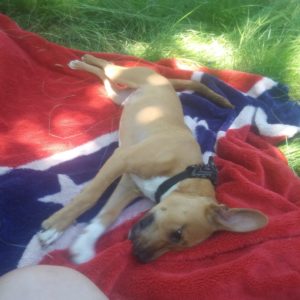 10/18/21
Lost Cat, Apricot/ orange tabby older male with a subtle bullseye in his side. Green eyes . He's long and thin- and was last wearing a collar with a bell (quick release so it may have fallen off)
He has quite a primordial pouch on his belly.

Last Seen near North Stanwood Lane off Willow Rd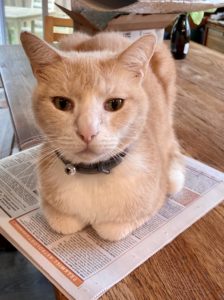 Gretchen (828)674-5398
10/14/21
Lost Cat, Jasper is a Friendly orange tabby male cat. Slender…super friendly. No collar but is microchipped, last seen near Trenholm Road, Campbell Drive, Flat Rock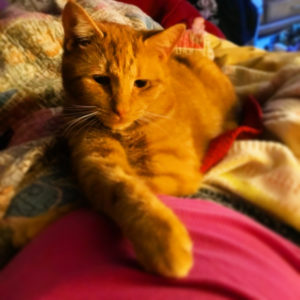 8/23/21
Lost Dog, Diesel is 10 months old he got off of his line this morning about 9 45. No Collar And is not microchipped. Last Seen near Grims Dale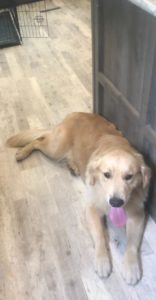 8/5/21
Found Dog, a Black and tan german shepherd, female. Found in the area of Dupont State Forrest. Not wearing a collar.
Barry 828-697-2378
8/4/21
Lost Dog, Zelda is a 24-week old female with black/brown fur and black&white pawed German Shepherd/Mastiff, with hazel eyes. High energy.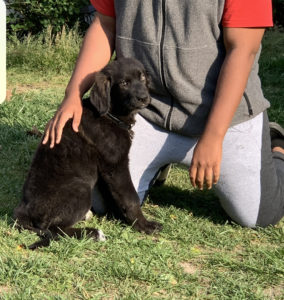 Carolyn (908)267-4846
7/7/21
Lost Cat, He has a cloudy left eye. Is indifferent to people, does not like other animals, but is treat motivated. No collar and is not microchipped. Last seen off seasons circle in Fletcher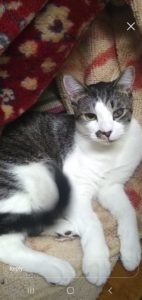 6/30/21
Blue German Shepherd female, about five years old. Dark brown/black fur, gold eyes. Wearing a black harness, but no collar or tags. New to the area, so she's shy, but not aggressive. She doesn't come to strangers well, so may need lots of coaxing/treats and a calm approach.
Last seen near Fox Ridge/Willow Rd/Finley Cove Rd
Leah (828)702-8015
6/30/21
The bunny's name are Brownie and Taz. The Brown bunny which name is Brownie has a missing eye so the brown bunny has only one eye. The Black bunny name is Taz and he is normal. They are not fully grown rabbits. Please find them they mean the world to my family. Last seen on Beehive/St Paul Rd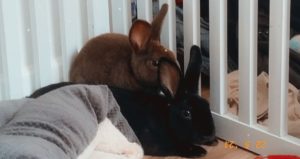 6/22/21
Friendly female black cat found. She showed up at Industrial Dr on Friday morning looking for food. Was meowing and approaching everyone who came in. She showed no hesitation with human contact…loves being petted! Seems to be in good health, just hungry. She's solid black with green eyes.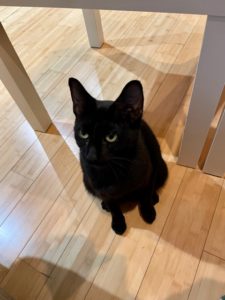 Rachael
6/15/21
Lost orange tabby cat, last seen on 5th ave west around shell station. No collar and is not microchipped.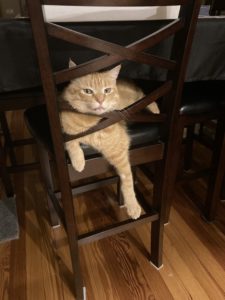 Gary (828) 692-5879
5/26/21
Lost Dog, Cokie is Brown with white spots. Medium size. Male already spay. Lost in Hendersonville. The Old cell phone is ? cell # 828_545_3652. Veterinary hospital is All Saint in Hendersonville. It is a Chihuahua. The new cell is 828_7931_448. Thanks. Micro- chipped # 981020037346028

-Daniel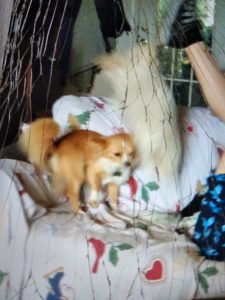 5/21/21
Lost Cat. She is a calico, with white black and caramel fur with black stripe down her back. Medium sized long cat. Last seen off of Lyndhurst Drive in Hendersonville.
Ann 693-1603
5/13/21
Lost Cat. Orange and white tabby cat. 14# has mostly orange on top and white underneath. One side looks like Florida shape. Last seen in their back yard. No collar, but is microchipped.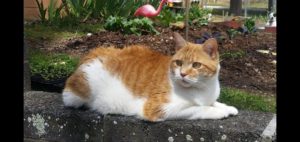 5/6/21
Traditional Black & White fur. Purple collar with black leash still attached. Her nose is turning a bit pink and the pattern on her forehead is a perfect fleur de lis. Last seen near Howard Gap Rd, Ardis Ln to be exact right near traffic circle. She is a service dog for PTSD and is needed ASAP. Reward for safe return.