Updated 12-10-18.
12/10/18
Luna is a Black and white Siberian Husky. She is 5 years old and has icy blue eyes. She has a black "eyebrow" looking mark on top of her left eye. She does not have her collar on but does have her flea collar on. She is also has epilepsy and hasn't had a seizure in a while but is proven to have them when she is scared or is separated for me for too long.
Leslie Arriola (828)458-1960
12/5/18
Found:Black and tan, male Chihuahua. Sweet little guy. Found in Salisbury estates Hendersonville
Patrick 205-240-6089
Found adult male cat near Spring Street, solid-black, no collar, friendly.
12/3/18
Heather 698-1575
11/28/18
Found Dog in the Emaculata parking lot. Brown hair on his head very small. Light brown back. No Collar and not microchipped.
Celia 577-9618
11/27/18
Gideon, also known as and responds to Orangey, is a very friendly red/orange tabby cat. He is thin, has a big head, and is about a year old. He was last seen in an apartment on Haynes St. in Hendersonville, NC 11/26/2018. He has no collar and is not chipped. If found, please call Chris at 352 270 0654.
11/26/18
Lost Dog Timmy is a small 10lbs dog white with black spots. No collar and is not microchipped. Last seen in Swannanoa off of Lytle Cove Rd.
Pam 545-1897
11/19/18
A found older cat, appears to be deaf with white fur and black markings. No collar and was found around Lake Osceola.
Mary 699-3144
11/15/18
Lost Siamese cat. Her name is Stella, she is 10lbs, with chocolate and tan fur. No collar, and was last seen in the vacinity of 25 North and Stoney Mtn road.
693-1603
11/14/18
Found along Patty's Chapel Road on Wednesday morning (11/14). Dog is wearing a blue collar decorated with bones, but no tags. Very friendly and will certainly be missed.
Tonya 301-6557
Lost female Shiatsu with reddish blonde and white fur. Her name is Cassie and she was last seen in Bon Clarken in Flat Rock. Reward is offered.
551-9126
11-5-18
Lost female Terrier Mix. Daisy is white with black spots, about 18lbs, wearing a pink collar, she is microchipped, but it has the wrong information. Last seen on General Hill Road
Else 699-3392
10/25/18
Shugie went missing around 4:15 yesterday (10/23) after my mom was in an accident on Kanuga Road near English Hills. She was seen today (10/24) around noon in the Covenant Presbyterian Church parking lot on Kanuga and has been spotted around the Osceola Lake area as well as other nearby locations. Shugie is a white and brown Pekelier and is wearing a pink collar. She has been spayed and is current on all of her shots. We miss her very much and long for her to be back home with us. We are incredibly grateful to this community for all of the help and support you have given! If you see her or have any information about her, please contact us at 478-987-1845.

10/23/18
Lost Abyssinian cat 14 years old, honey colored fur, green eyes,  her name is Penny and she was last seen wearing an orange collar with tags in the vicinity of Valley Hill near Champion Hills. Missing since 10/20/18
Chuck 941-960-0903
10/16/18
Juno was last seen on Saturday night, October 13. She is grey with apricot markings, especially down the bridge of her nose. She's about 9 pounds and has a tiny head. She is 4 years old and can be shy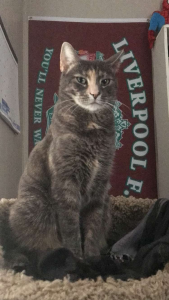 10/15/18
She is a Great Pyrenees all blonde hair. She is an old doggie 11 to 12 years old. Very shy towards people but loving, shes my fathers dog who escaped from goodwill parking lot or someone let her out of the car. My father is lost without her just like her please help us find her . if found please call828-490-6054 or 828-702-9229 . My dad lives in Hendersonville I am writing this for them from florida please bring her home her name is Angel.
10/08/18
Snickers is a Senior Citizen lost pet. He is a 12 year old male terrier mix, standing at about 18 inches tall. Snickers has brown and black markings on his back, a white speckled chest and belly, and a mask on his face that has begun to grey. He also has white paws and a white-tipped tail. He was last seen wearing a brown leather collar. Please help our shy dog find his way back home!
10/03/18
Found Dog. Brown pitbull with white belly and chest. Not neutered. Very friendly and leash trained. Found on Spring Street.
Cody 708-2257
If you have any pets you would like to report please submit the form below –