Updated 10-16-18.
10/16/18
Juno was last seen on Saturday night, October 13. She is grey with apricot markings, especially down the bridge of her nose. She's about 9 pounds and has a tiny head. She is 4 years old and can be shy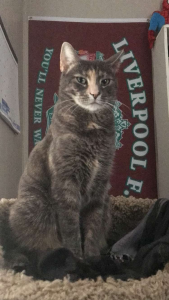 10/15/18
She is a Great Pyrenees all blonde hair. She is an old doggie 11 to 12 years old. Very shy towards people but loving, shes my fathers dog who escaped from goodwill parking lot or someone let her out of the car. My father is lost without her just like her please help us find her . if found please call828-490-6054 or 828-702-9229 . My dad lives in Hendersonville I am writing this for them from florida please bring her home her name is Angel.
10/08/18
Snickers is a Senior Citizen lost pet. He is a 12 year old male terrier mix, standing at about 18 inches tall. Snickers has brown and black markings on his back, a white speckled chest and belly, and a mask on his face that has begun to grey. He also has white paws and a white-tipped tail. He was last seen wearing a brown leather collar. Please help our shy dog find his way back home!
10/03/18
Found Dog. Brown pitbull with white belly and chest. Not neutered. Very friendly and leash trained. Found on Spring Street.
Cody 708-2257
9/29/18
Lost blonde male shiatsu. No collar or microchip. He is 11 years old and needs medication. Last see off of Hyder Allen lane, near Sugarloaf and Pace road. A reward is offered.
Sherry 243-4580
9/26/18
Lost dog. 8 year old white pomeranian with a cream coloring on her back. Her name is lilly. She is very friendly and will not run if you try to catch her. Last seen in the Mount olivet zirconia  area. No collar or microchip
Christian 489-2368
9/25/18
Lost dog wearing a collar and is microchipped. 40 lb black with a little bit of brindle. Very skittish but will approach. Very friendly will not bite.
Last seen in the Erkwood and Lyndale area.
Sue 393-5851

9/24/18
Lost Cat. Dark grey Male Tabby short hair with vertical stripes. Goes by Todd, he his skittish, but friendly. No collar and is not microchipped. Last seen on Burnside Trail behind Walmart near Howard Gap Road.
Taylor 685-7215, 458-5275
9/24/18
a sweet elderly golden retriever joined our farm in edneyville off n.ridge road 

on saturday

 morning 9.22.18. it's face has gone almost completely white, but he has bright clear eyes.
he's very well-mannered and seems in good condition.Scott 400-9449

9/21/18
Found Female Chihuahua mix. Black with a little bit of grey on her face. No collar, not microchipped. around 12lbs, very friendly. Found on Howard Gap road a mile north of 64.
Bill 692-7574
9/15/18
Lost Male Terrier named Charlie Brown. He has brown curly hair. Medium sized dog, and he has one brown and one blue eye. No collar or microchip.
696-8340
9/14/18
Lost Black Male Cat. Jingles is neutered has green eyes and is about 11 years old. He is wearing a collar with rabies tags. Last seen near Fork Ridge Lane behind Fellowship Baptist Chirch off of Howard Gap road. A reward is offered.
Judy 513-7591
9-4-18
Lost Dog- Susie Q is a female Yorkie. Black with Tan paws, wearing a red collar and is not microchipped. She is 10 years old and about 8lbs. Last seen off of Old Spartanburg Highway. A reward is offered.
Janis 708-2560
8-29-18
Lost Dog – Small white jack russle mix- solid white with black spot on his back standing about a foot tall
No collar – not micro-chipped — Answers to the name Henry
Last seen in the mid-Fanning Bridge Rd area
Timothy – 280 0183
If you have any pets you would like to report please submit the form below –